55 Cool Motorcycle Helmets of All Time
Wanna check out the coolest motorcycle helmets of all time? 😎
Let's take a look, shall we? 😉
1. NECA Master Chief Motorcycle Helmet
DOT-approved modular motorcycle helmet lets you take to the road in true Master Chief style. A reflective shield, front air intakes, and rear exhaust vents are part of the exterior as well as a nylon chin strap with a double D-ring. Moreover, there is a contoured center pad, dual-layered EPS cheek pads, and moisture-wicking material in the interior.
2. GDM Duke Helmets DK-120 Full Face Motorcycle Helmet
This aerodynamic-looking lid combines a lightweight polymer composite shell with seven vents, a plush liner, and cushioned cheek pads. Upon seeing the sleek black profile of the device, you knew it was perfect for you.
3. ScorpionExo Covert Unisex-Adult Half-Size-Style Matte Black
It's hard to go wrong with black motorcycle helmets when it comes to looks. Here's one from Scorpion, which comes with a custom-developed polycarbonate shell created by LG. It also features a retractable tinted sun-visor, block-off plates, and a magnetic front mask.
4. AUTOPDR Open Face Vintage with Goggles Mask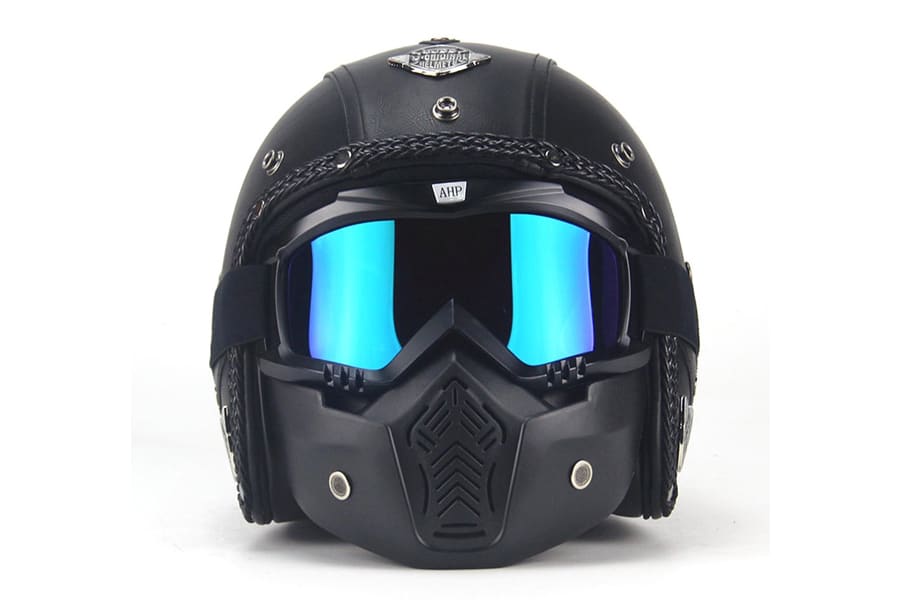 Its retro style, premium comfort, and streamlined practicality make it a must-have for Harley motorcycle riders. With the addition of the goggles, it is given an aviator look. The motorcycle helmet is not only UV-protected but also quite affordable, as it comes with an ABS and leather shell.
5. Moto Loot Helmet Cover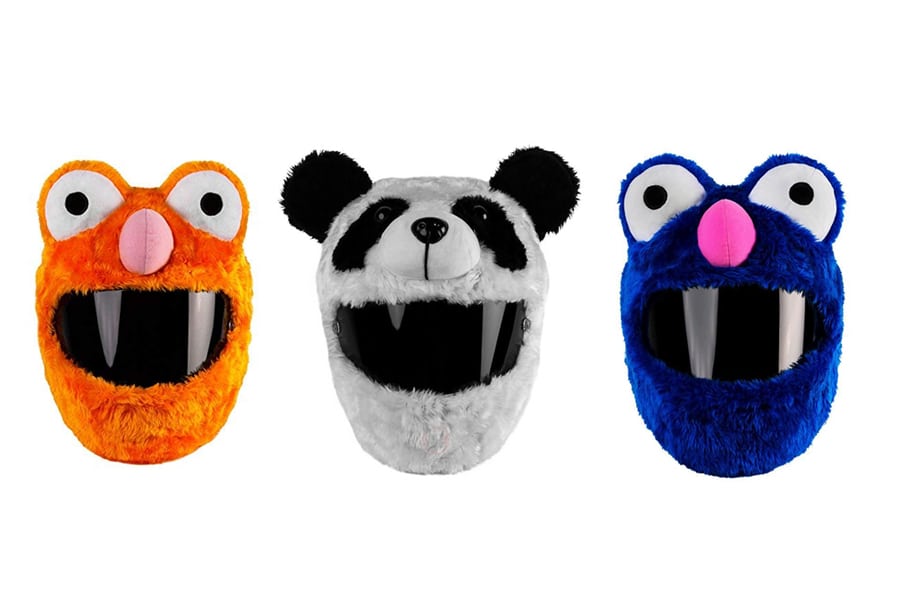 You'll know without a doubt whether it's the cover for you after one look at it. It oozes warmer, more fun-loving vibes than the norm for the aggressive fare. In addition, the design is versatile and easy to install.
6. HJC Star Wars Storm Trooper Full Face Motorcycle Helmet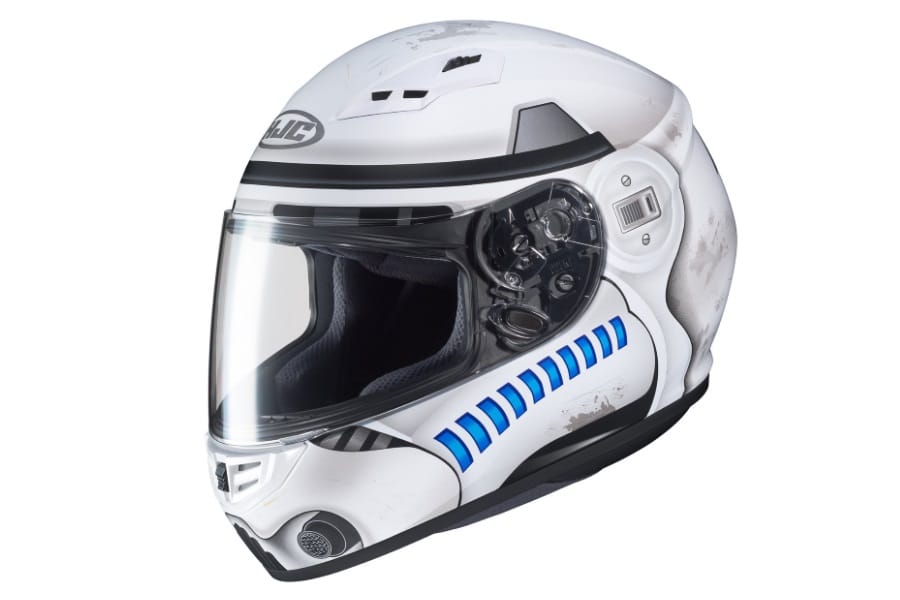 It's pretty easy to tell what it's all about by the name, Storm Trooper Full Face. This great motorcycle helmet is more than just yet another page taken from The Empire Strikes Back's merchandise catalog. With its hard coating 3D shield design, unbreakable polycarbonate shell, and shield ratchet system, this DOT-approved bike comes equipped with advanced features. A channeling ventilation system enhances airflow front-to-back on the headgear.
7. Bell Bullitt Carbon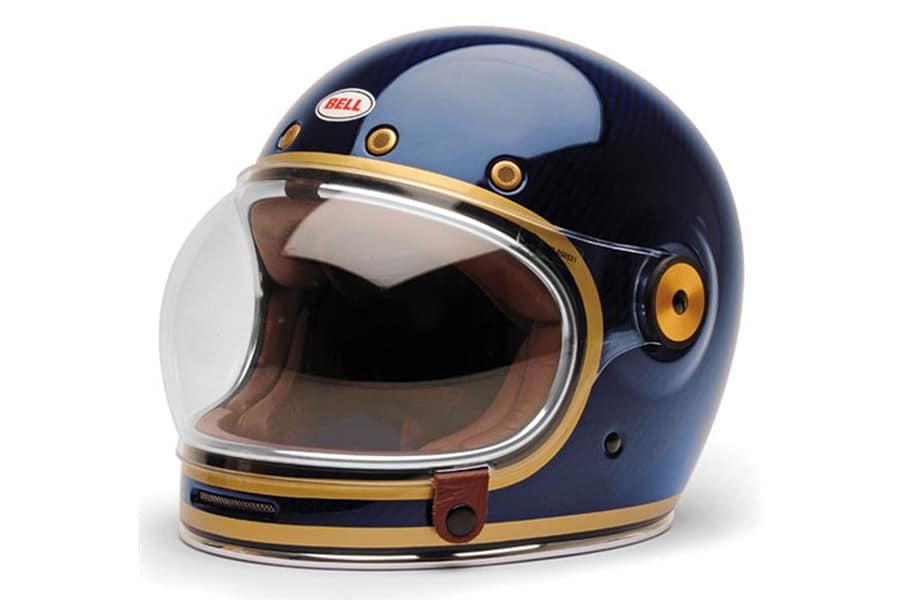 In the world of motorcycle helmets, Bell has a reputation as the maker of the coolest helmets around, and the Bullitt Carbon is no exception. It looks like a vision of 35 years ago merged with modern technology. It features a striking aesthetic as well as an anti-bacterial (and removable) interior, full-face protection, and integrated speaker pockets, as well as metal mesh intake and exhaust vents. Each size and color is available.
8. Bell Eliminator Motorcycle Helmet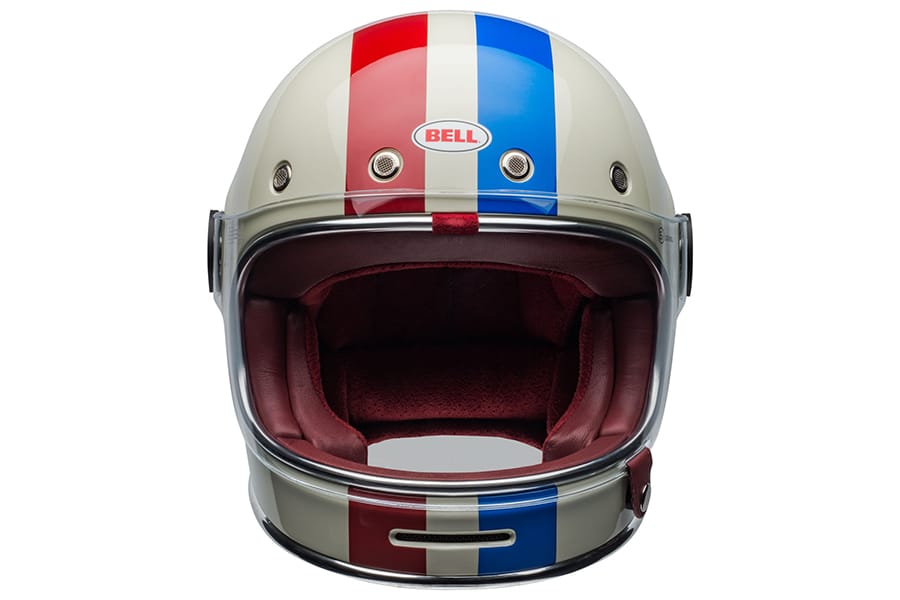 With the Eliminator, Bell can keep its train rolling. These vintage helmets carry bold colors and signature lines that are reminiscent of the brand's early products. The range combines style and precision from the past with a beautiful twist on the present. Bell has long been a favorite of motorbike and motorcycle enthusiasts.
9. HJC RPHA 11 Pro Venom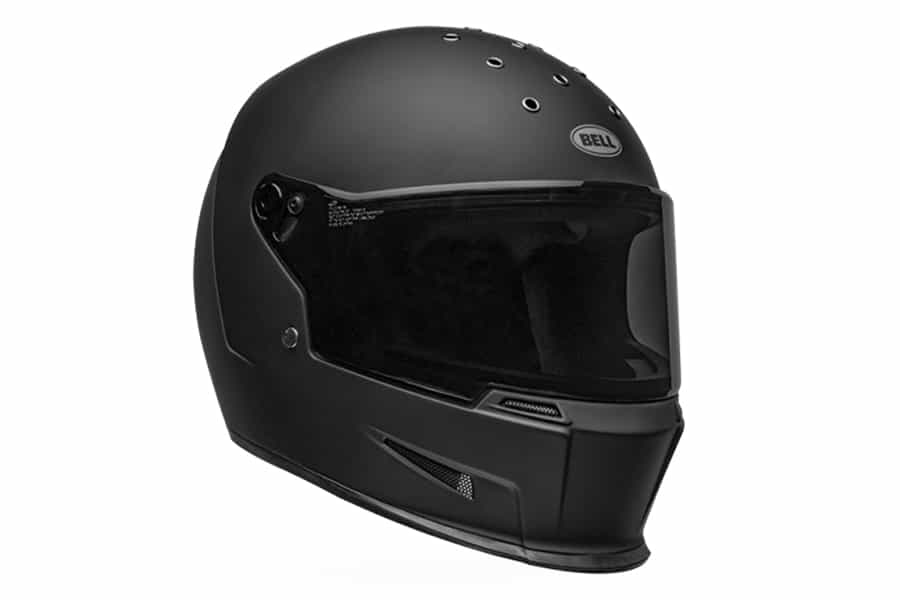 It is an official Marvel product, and it completely lives up to its iconic roots. This helmet has more than just eye-catching looks. It is replete with premium features as well. Additionally, the helmet features an advanced aerodynamic fiberglass shell, six-stage variable airflow, Anti-bacterial MultiCool Interior fabric, crown and cheek pads, RapidFire II Shield Replacement System, and integrated communication speakers.
10. Home Helmets Icon Airflite Battlescar 2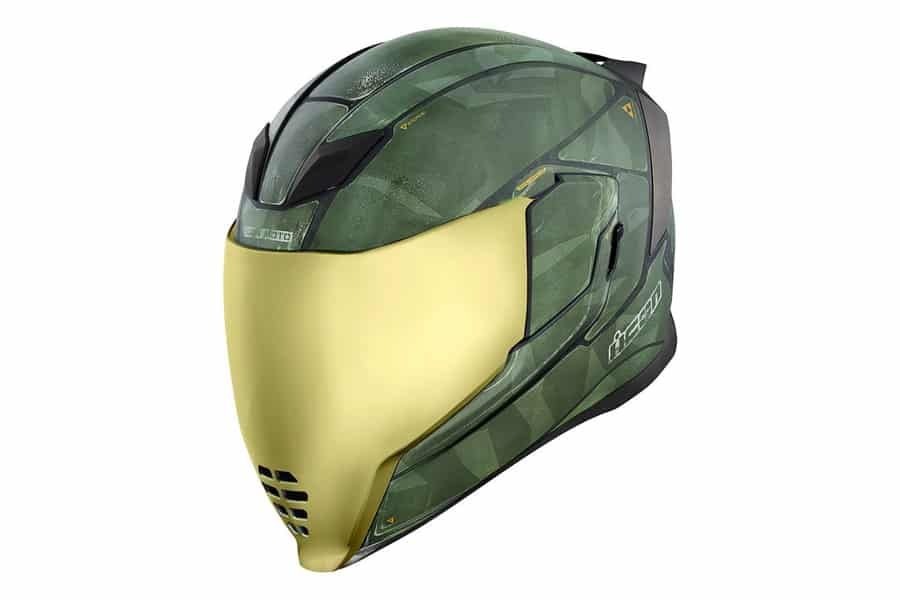 This motorcycle helmet makes you feel like an airborne fighter pilot already soaring through the streets as you cross them. An injection-molded polycarbonate shell, intake and exhaust ports, removable moisture-wicking liners, recessed twin channels, and so much more are included in the configuration.
11. HJC IS-5 X-Wing Fighter Pilot Motorcycle Helmet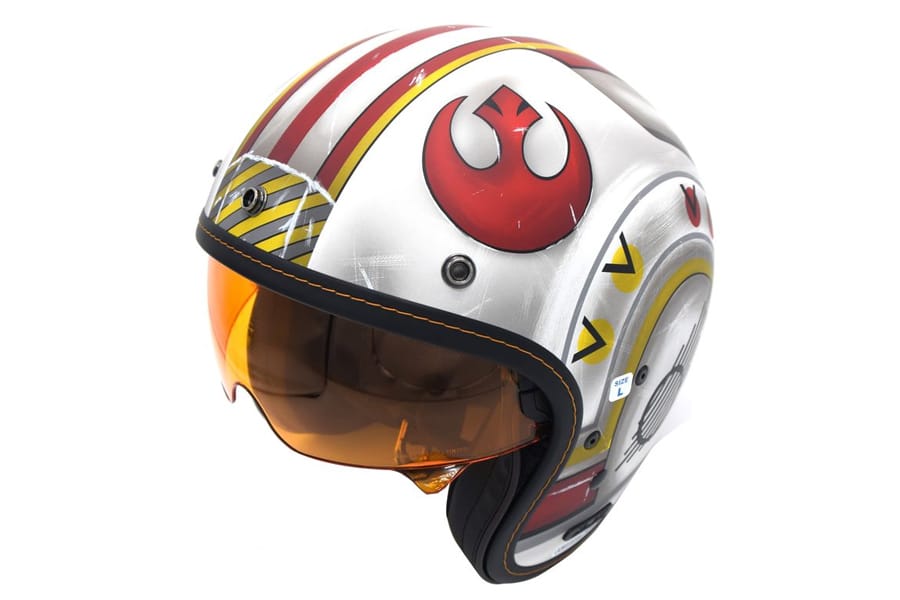 Most people have fancied themselves to be an X-Wing fighter pilot at some point, and this DOT-approved retro helmet is the next best thing to getting in on the action. The striking visuals of this helmet are complemented by a polycarbonate composite shell, anti-bacterial fabric on the interior, a sun shield with HJ-V8, and an integrated sun shield.
12. HJC Helmets Marvel IS-17 Unisex-Adult Full Face Ironman Street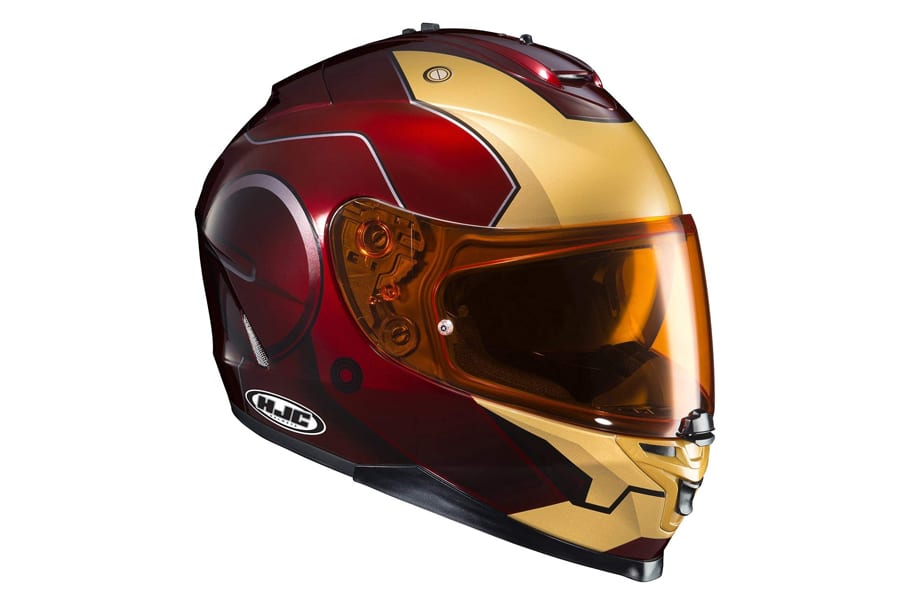 With a refined aesthetic and optimal performance, the Ironman Street Motorcycle has the appearance and feel of something designed by Tony Stark himself. A polycarbonate shell is housed with a pin-lock Max Vision-prepped face shield, and a Rapidfire II Shield Replacement System is mounted on the interior. Make like a Marvel superhero by wearing it.
13. HJC Star Wars RPHA-11 Boba Fett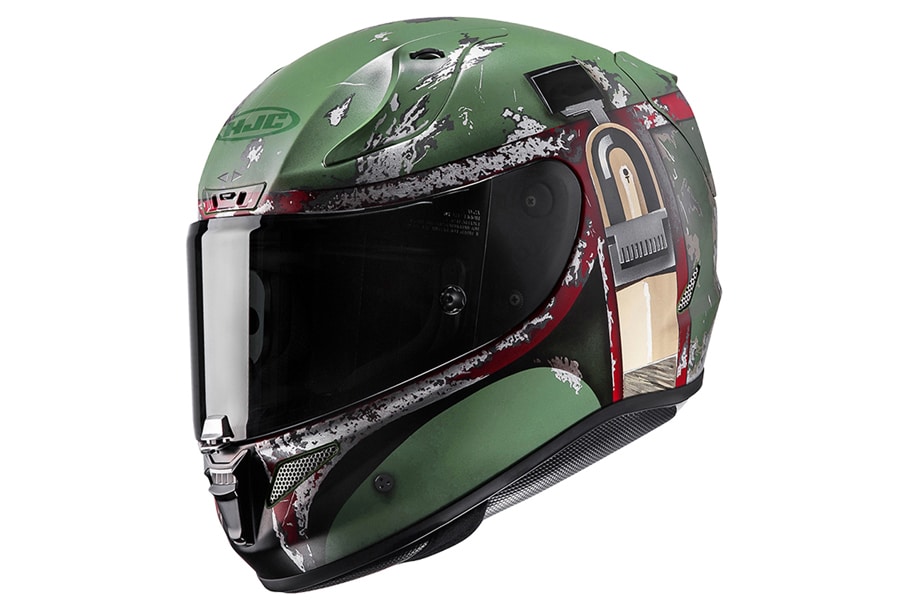 Robert Fett is a legendary bounty hunter and one of the most feared in the "Star Wars" galaxy. The Boba Fett cap even boasts a war-worn aesthetic, so it makes sense that you'd want one. Even in spite of the built-in themes, the product is extremely strong, incorporating carbon fiber, aramid, and organic non-woven fabrics into an integrated matrix. In addition, a multi-cool interior, an automatic shield locking system, and an aerodynamic shell structure are included.
14. Berluti Leather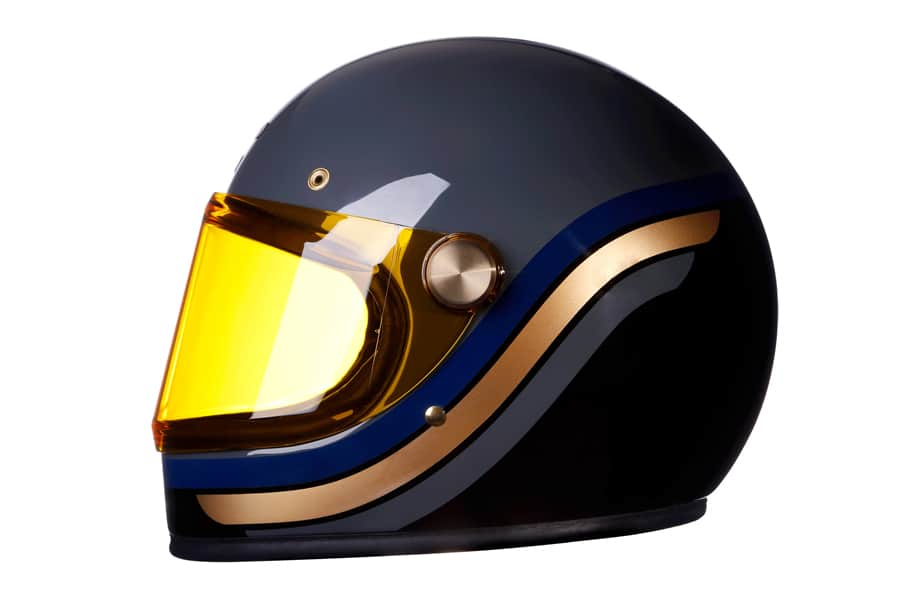 Berluti offers a handsome leather helmet that suits all riders with sophisticated tastes. In a sleek glossy finish with a crescent-shaped Venezia peak and a patinated finish, this carbon fiber frame wraps around a lightweight, durable shell. You'll find calfskin leather and Coolmax padding inside. With padding made of foam, leather, and fabric, all of this comes together with a striking border of calf leather. This is a matter of quality.
15. Nitrinos Neko Motorcycle Helmet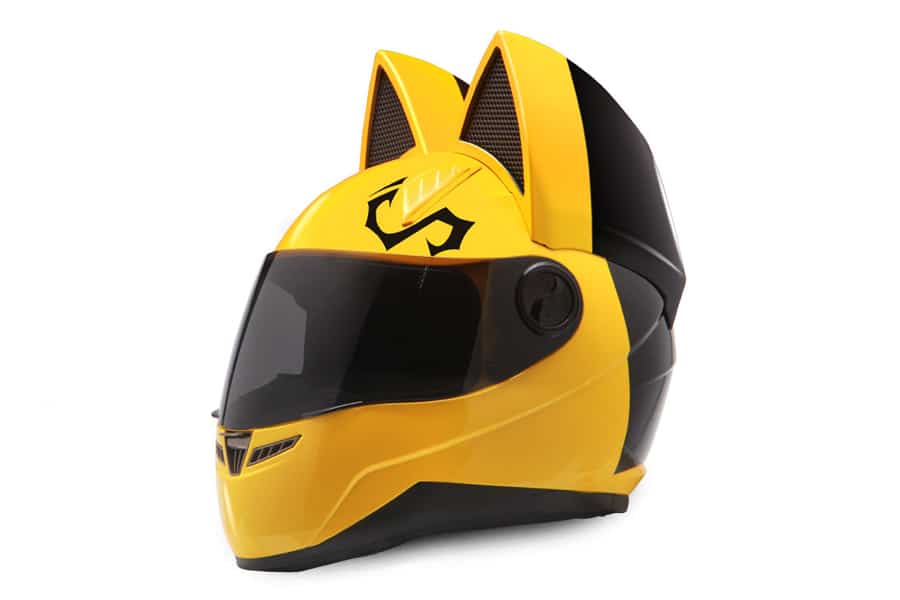 The Nitrinos Neko is one of the most recognizable motorcycle hard-hats ever made. Made to order in a variety of colors, styles, and sizes, these cool helmets feature removable ears. A battery-powered lamp module is included with the modular ears along with updated mesh elements. All helmets include a scratch-resistant polycarbonate shell, a transparent visor, double ventilation, and a 100% polyester liner that can be removed.
16. CrossHelmet X1 HUD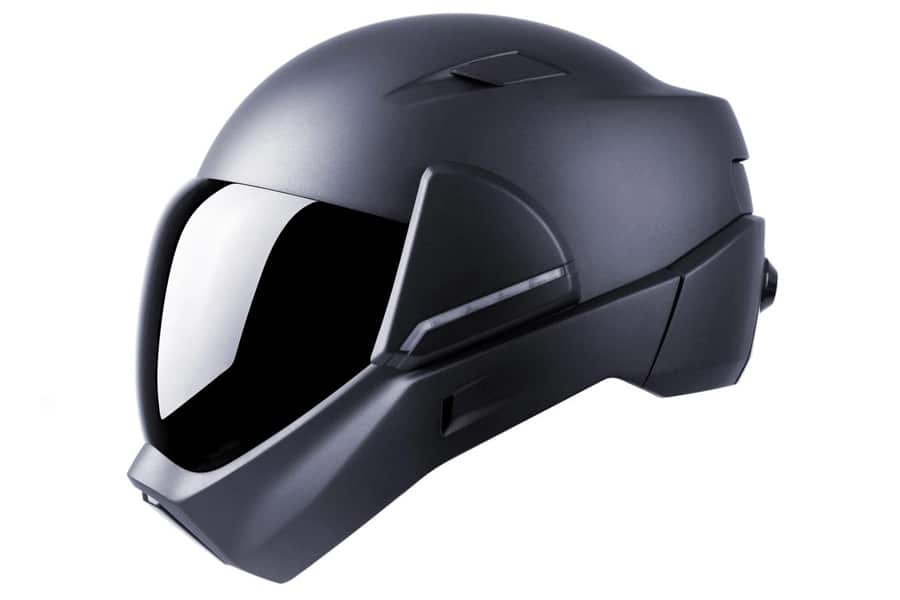 With the X1 HUD, you'll have a notebook for your head, not just a piece of motorcycle gear. Aside from a heads-up display (HUD), 360-degree visibility, an industry-first sound control feature, Bluetooth connectivity, and an accompanying app, its other highlights include the ability to search for places, change volume, and coordinate calls with others. Modernity is redefined in this fashion.
17. ScorpionExo Covert Motorcycle Helmet
It features all the features of a typical half-face and then adds features such as a magnetically attached face mask and a built-in sun visor. The helmet is light and tight despite its bold visual impact. All in all, this is a rather impressive set of headgear.
18. Bell Moto-3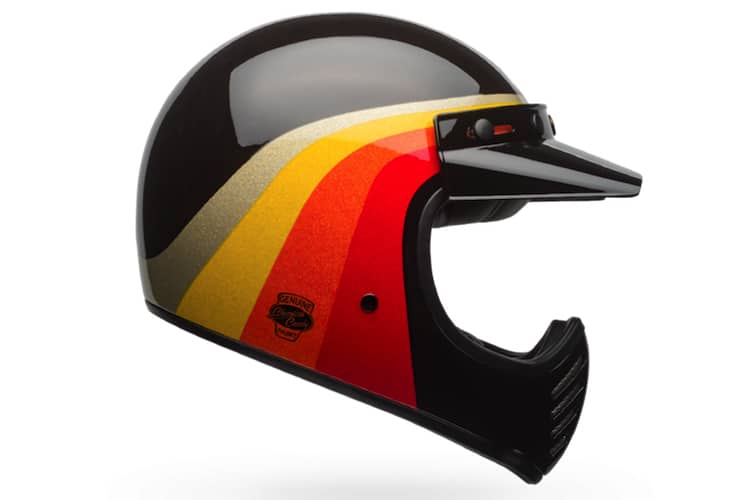 A retro killer from Bell completes our list. The Moto-3, which was the first full-faced off-road motorcycle helmet, takes its cues from this helmet. Enhanced with an ECE and DOT approved composite shell and a five-snap visor, the lightweight, durable design is lightweight and durable. Keeping the past alive as only Bell can, it is available in different sizes and colors.
19. Biltwell Gringo Motorcycle Helmet
A helmet without moving parts can only provide the type of solid construction that you are looking for. Its full injection-molded ABS shell is padded with extra thick material that will effectively protect your head from any form of injury.
20. Bell Bullitt RSD Viva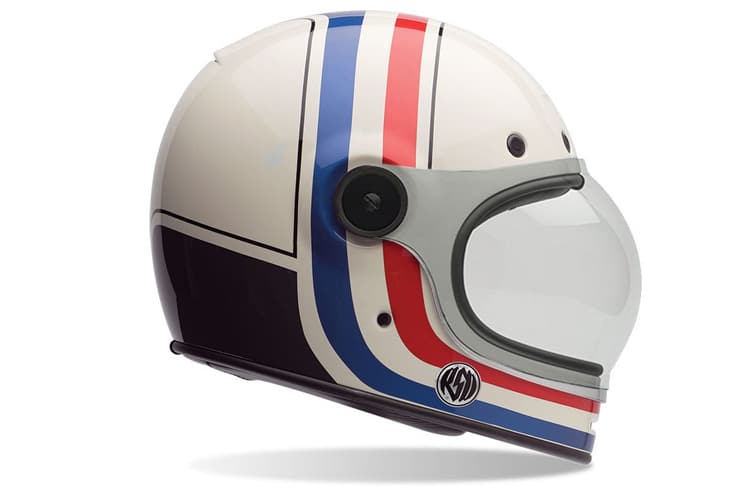 Despite the addition of a few flashes over the original Bullitt, the Bell Bullitt RSD Viva helmet is just as simple, solid, and retro as the original. Motorsport legends of the past are celebrated in the Viva.
21. Hedon Hedonist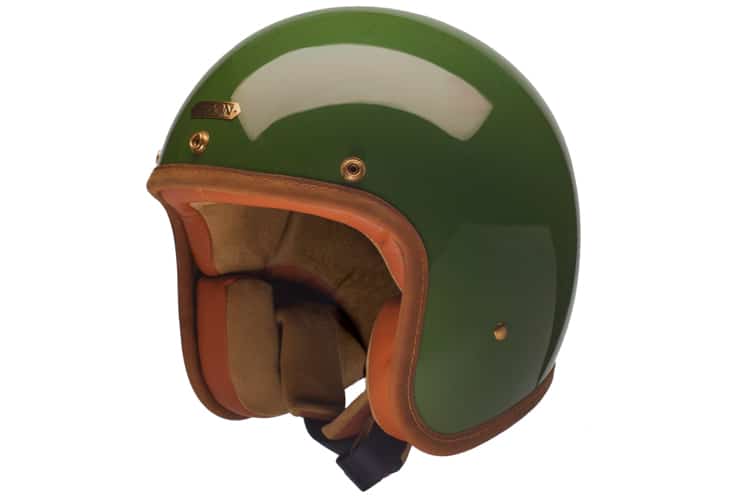 There are many beautiful and classic helmet designs in this series, all trimmed and lined in genuine leather. If you want to look like a cannonball, choose one of the options below.
22. AGV Diesel Hi-Jack Motorcycle Helmet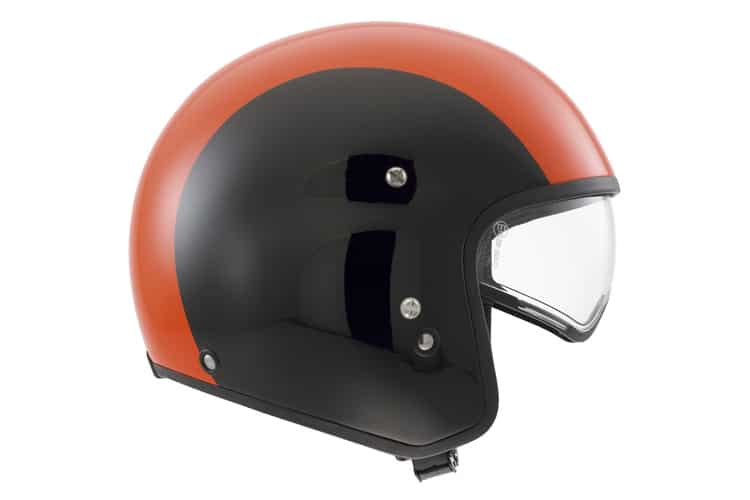 The Hi-Jack should be intimidating to any pilot as if it were a cross between the Hedon and the gear found on an F-14 pilot.
23. Bell Rogue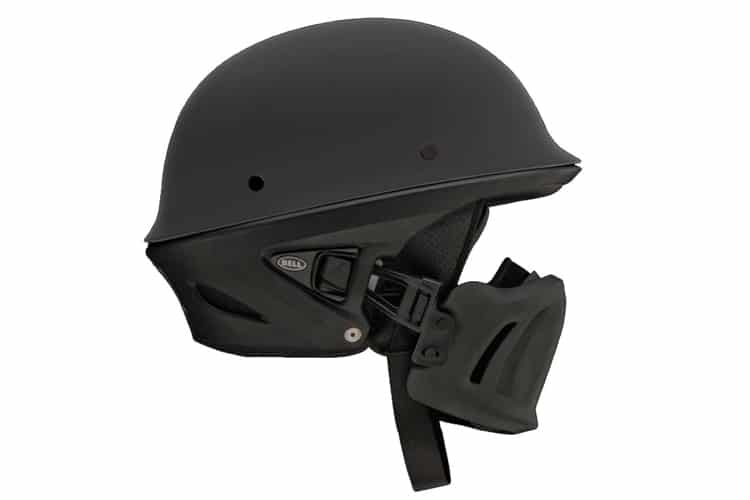 For the kind of person who wants a helmet that looks mean, but knows him/herself to be fit to only wear it for safety reasons, here is your helmet. Finished off nicely with magnetic muzzle connections, this bad boy has a lightweight composite shell.
24. Torc Racing T50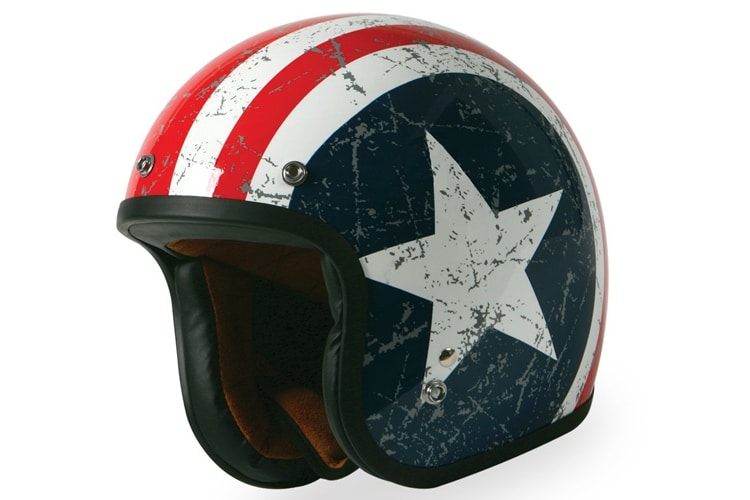 A 344 faceless anti-noggin jostling device with classic styling, this helmet is the budget version of many of the classic helmets we have at the top of our list. These concussion-preventing awesomenesses are fully padded and chemically injected.
25. Bell Pit Boss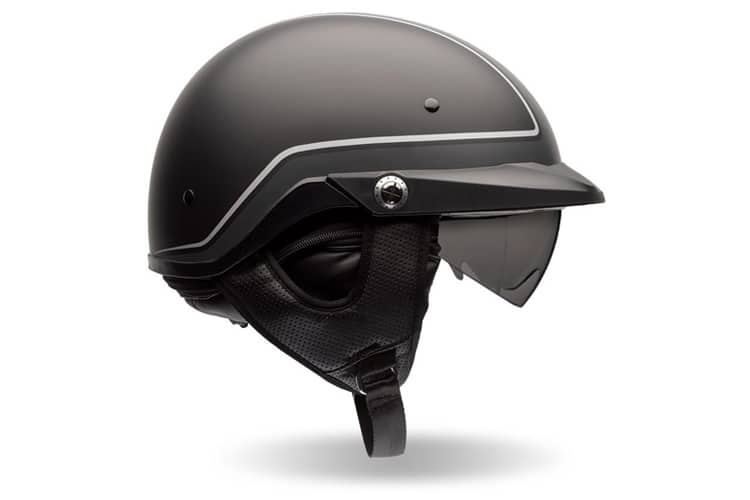 With its double shell, rapid dial fit system, and internal sunshade, the GM65 Full Dress Half Helmet is a bit safer than the GM65 Full Dress Half Helmet in terms of protection. UVA sun protection is provided by the visor, and an additional bonus is its speaker pocket- which is convenient for communication devices, not headphones, since it would be illegal to wear them.
26. Storm Modular Full Face Motorcycle Helmet with Dual Visor
Riders around the globe know that Bell helmets are among the best available. A variety of features are in one sleek package that offers superior impact protection against angled impacts and speed crashes. A polycarbonate helmet with 3 shells made from lightweight polycarbonate can be used for both dirt and street riding. Designed for both beginners and professionals, this go-anywhere helmet is the ultimate go-anywhere choice.
27. HJC CS-R2 Helmet
With its double lens shield and breath box, the HJC CS-R2 is perfect for snowy conditions. It also has an adjustable forehead and chin vent. In addition to being incredibly lightweight, HJC's model is also very compact and works well for people who have smaller heads. Keeping you safe while riding on icy roads, the shell is made of advanced polycarbonate composite.
28. ILM Dual Visor Modular Full Face Helmet with DOT LED Lights
Choosing a helmet that is equipped with LED lights will help you ride at night with more safety. ILM's Modular version consists of lighting that can be flashed at different speeds and has a battery-powered battery. Although not just for low-light travel, it is useful in many situations. In addition to being sleek and light, the helmet has a flip-up visor with anti-fog coating and wide viewing – ideal for daytime and nighttime use.
29. Scorpion EXO-R710 Golden State Street Motorcycle Helmet
It has many of the best features of Scorpion's R-Series helmets, coupled with new features that make the EXO-R710 one of the most innovative fiberglass helmets available on the market today. Usually found in protective body armor, the shell blends fiberglass and Aramid fiber for maximum durability, and, for added protection, the shock-absorbent layer extends to the chin bar. A no-fog coating and anti-scratch coating ensure excellent visibility.
30. Mophoto Bluetooth Integrated Helmet
In addition to having built-in Bluetooth, the Mo photo Helmet offers an intercom that lets you talk to up to two other riders, as well as access GPS and music. It comes with regular features such as a stylish design, technology, and a variety of colors. Heavy cushioning and a light, ventilation shell, anti-fog, and waterproof lenses make these sunglasses extremely comfortable.
31. Storm Street Bike Dual Visor/Sun Visor Full Face Mechanic Helmet
As the visor neatly fits over the top, the design is also ideal for glasses wearers. Plus, a UV protective finish and a quick-release buckle complete the style. There's no better helmet for highly-priced riders who want to enjoy high-quality gear at an affordable price.
32. TORC Mako Flat Black Force Full Face Helmet
Its sleek bodyline is inspired by the sleek body of the fastest shark species. It features dual-density shock-absorbent padding and laser-contoured padding that makes it the lightest TORC model. Furthermore, its flat-panel shield is designed to allow you to see clearly, even in direct sunlight.
33. Westt Rover Open Face Motorcycle Helmet
For bikers who want to match their helmets to their bikes, the West River Open Face Helmet is an ideal choice. In addition to the black side parts, the helmet comes with gray, blue, and gray interchangeable parts. While shock-absorbent internal padding ensures crash protection and comfort, the rounded helmet shape gives it a unique and futuristic appearance.
34. LS2 Rapid Full Face Helmet
In addition to being incredibly lightweight and aerodynamic, this full-face helmet is highly adjustable for ventilation with fully adjustable channels. A two-shell design, which provides the same protective benefits as other helmets, makes this helmet smaller and lighter. Moreover, you can choose the helmet that suits your bike and your style from a variety of different designs and finishes.
35. YEMA Full Face DOT Motorcycle Helmet
In addition to being stylish and lightweight, the angular shell also offers excellent aerodynamic properties. A sturdy inner lining pad, as well as a classic dual visor you can retract with ease, are also included in this helmet.
36. HJC CL-17 Helmet
HJC has been manufacturing motorcycle helmets since 1958, and while they're stylish and affordable, they're high-quality and built to last. It is made of lightweight, aerodynamic, and durable polycarbonate composite materials, giving it a lightweight, comfortable, and durable shell. This ensures total comfort because it draws moisture and heat out of the helmet from front to back. Whether you choose The Hulk from Marvel or your own favorite finish, you're ready to go.
37. Simpson Ghost Bandit Carbon Fiber Helmet
In addition to being more durable, lightweight, and sleek, carbon fiber helmets have an attractive aesthetic. The unusual forehead ripple effect Simpson employs on his helmets catches the eye. One of my personal favorites will always be The Ghost Bandit.
38. Rezzer Punisher Flip-up Modular Motorcycle Helmet
Rezzer has combined a DOT-rated helmet with a cool punisher-style face shield to create the latest take on the modular helmet. The extra molding and painting prevent most custom car makers from doing that.
39. HJC Monster Mike 'Wazowski' Helmet
This HJC graphic helmet has a single eye near the top, which looks cool when leaned forward into a racing position.
Having HJC helmets provides a stylish standard and a comfortable fit for riding. You also get the cool sensation of wearing a Monster's Movie character on your shell.
40. Icon Chantilly Motorcycle Helmet
ICON Chantilly's black and white skull pattern will forever be an inspiration to us to color in the lines.
There thus emerged a whole category of 'sharpie-helmets' and custom helmet makers who could easily customize their helmets to stand out in a crowded parking lot using a sharpie.
41. White Predator Motorcycle Helmet
The streets are filled with a predator on the prowl. On eBay or Etsy, this design is probably the most replicated. It's best to go with a helmet that starts with a decent rating as the base model.
42. HJC RPHA Monster Energy Motorcycle Helmet
We fuel our motorsport addictions and our passions with Monster Energy by smoking in this helmet. It is only fitting to see this mash-up between iconic brands to make a motorcycle helmet of such an awesome appearance.
43. AGV Light-Mode Motorcycle Helmet
By upgrading your helmet with a Lightmode Kit you will be 100 times more visible on the road. Add another 100x to the coolness factor of the AGV by adding one. All those upgrades are impressive.
44. Bell Qualifier Purple LED "MotoKitty" Motorcycle Helmet
Here's a way to light up your night rides with a combination of EL wires and Stick-On Cat Ears. Bell's quality brand gives you a blank canvas to add any accessories you want to make your own.
45. SS4100 Modular Motorcycle Helmet
Speed and Strength Modular helmets look like they fold up, but they are actually flip-up helmets. This is one of the few modules on the market that has such a high coolness factor that it makes the top 50 list. Thank you, SS. This one's a keeper!
46. HJC Iron Man Motorcycle Helmet
This look would win Tony Stark's approval. Marvel's Iron-Man Helmet, one of the most popular products from HJC, is among the most popular. Undoubtedly one of the coolest helmets on the market. The RHPA HJC helmet has just been updated to include full outfits and matching motorcycles.
47. Shark Raw Dog-Tag Motorcycle Helmet
Customizing this cool helmet design gets the most attention to the facemask. It's easy to swap it out since it can be done in a few clicks. A graphic print of this style would look like it was made from scrap parts and riveted back together because of the tactical look and feel. It's like post-apocalypse.
48. Icon Airflite Quicksilver Motorcycle Helmet
You actually go faster when you're wearing silver. Are you looking faster if you wear it? No matter the color, we place this Icon in our list of cool motorcycle helmets because the color-ways on it are so smooth.
49. HJC 'Venom' Motorcycle Helmet
A few short months later, the second installment of the Venom helmet rolled out quickly after the first one. This design has been replicated by custom airbrushers for years, but this design is so badass that HJC recognized the potential. That's good news because they finally got it right.
50. LightHawk Icon Variant Motorcycle Helmet
The icon is back with even more cool variants with mohawks. Now, you can see them with LED lights for the first time! Thanks for visiting.
51. AGV Pista Motorcycle Helmet
AGV's Pista helmet gets points for staying sleek. It does not need any enhancements (or really can't). Adding a few decals, though, can help you turn this into your own style if you really want those colors that are not available. We don't have to get out our airbrushes and checkbooks.
52. Rezzer Predator Motorcycle Helmet
If you are really interested in this look, I would recommend the Rezzer predator helmet. A classic look, more mechanical than the original, is provided in this film. I love the way it looks on the road too, it's one cool helmet to see.
53. Ruby Castel St. Roc Motorcycle Helmet
For so long that I can't remember, I have been sitting at the most expensive helmet, the Ruby. A helmet like this makes me scared to get splattered with bugs. But I still want to buy one. It just has a magnetic quality about it.
54. Icon "All eyes on me" Motorcycle Helmet w/bow
When you stare at this Icon helmet for too long, the glowing eyes do give off a spooky feeling. This one also looks cool because of the teeth lining around the chinar and visor. Until then, what do you do when it's not enough? …and then tie it up.
55. Ruroc Atlas 'GateKeeper' Motorcycle Helmet
It's safe to say that Ruroc's new graphic design stands out. Adding a design of this caliber to the helmet makes it look even cooler. We are done for now.